Five Books That Shaped My Life
by Major Stacy Birks
Five books - how and why they helped shape me
1. The Purpose Driven Church, by Rick Warren
As a young Lieutenant in the second appointment as a Salvation Army Officer, as you can imagine, I still had a lot to learn about leading and growing a congregation. The Divisional Commander at the time most likely knew my husband, Rob, and I could use as much help as we could get, so she bought and gave to us Rick Warren's, The Purpose Driven Church. Knowledge is important in leadership, but what also comes in handy is experience and this book was written on just that. One phrase that was influential goes something to the effect of, "if you don't have a plan to bring your community to Jesus, then you really are telling them they can go to hell." Mind-blowing! Revolutionary! The book shares 5 areas to focus on in order to have a growing congregation, "warmer through fellowship; deeper through discipleship; stronger through worship; broader through ministry; larger through evangelism". This book isn't theory. It is practical help that already had been worked out and experienced by the congregation of the author.
2. The Practice of the Presence of God, by Brother Lawrence
The Practice of the Presence of God, by Brother Lawrence, was a force for transformation in my prayer life. While reading this book, I discovered what the Bible means in 1 Thes. 5:17, where we are told to "pray continually." Brother Lawrence shared intimate details of his Spirit-lead and Spirit-filled life. The most influential is, "That we should establish ourselves in a sense of GOD's Presence, by continually conversing with Him." Prayer isn't only for morning devotions, grace at meals, Sunday morning Holiness Meetings, at the bedside of a sick soldier. Prayer can and should be constant, all through the day, even in the most undistinguished tasks in my daily routine, like washing pots and pans.
3. Celebration of Discipline & Prayer, by Richard Foster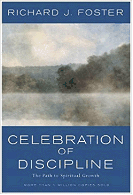 Celebration of Discipline and Prayer, both by Richard Foster, are two books on my shelf that get read over and over. The first one was my introduction to spiritual disciplines. It gently guided me through meditation, prayer, fasting, study, simplicity, solitude, submission, service, confession, worship, guidance, celebration. At the same time challenging me to grow deeper spiritually. Similarly, Prayer taught me more about this discipline. While reading it, for the first time I experienced God communicating to me in a vision. He brought my attention to Psalm 31:3, "Since you are my rock and my fortress, for the sake of your name lead and guide me." That marked the first of many times God has spoken to me through His Word.
4. How Should We Then Live?, by Francis Schaeffer & How Now Shall We Live?, by Charles Colson
Francis Schaeffer's writing is brilliant and influential in his book How Should We Then Live? (as well as the film series by the same name, that showed off his lederhosen). After reading it, I understood what is meant by "worldview" and I was convinced that the Gospel should inform my whole life, not just bits and pieces, or when I felt like it. The book points out that western culture is in moral decline and "To make no decision in regard to the growth of authoritarian government is already a decision for it." That is what finally convinced me I can and will live out my faith by being socially active in my city, state and country on issues that are important to me, such as objectivity of women and gun violence.
In a similar way, How Now Shall We Live? helped shape my life. The "worldview" thought continues as Chuck Colson writes, "Christians who understand biblical truth and have the courage to live it out can indeed redeem a culture, or even create one. This is the challenge facing all of us in the new millennium." Through telling true stories, and teaching, this book "demonstrates how to expose the false views and values of modern culture, live a more fulfilling life the way God created us to live. Contend for the faith by understanding how nonbelievers think. Build a society that reflects biblical principals." (back cover of the book)
5. A New Kind of Christian, by Brian McClaren
When I first read A New Kind of Christian, I was speechless. It was thought-provoking and challenging to what I had known a Christian to be and what my idea of church was. Brian McClaren was the first author that exposed me to the idea that the Kingdom of God is bigger than the church, denominations, and Christianity as I understood it.
"What if the Christian faith is to exist in a variety of forms rather than just one imperial one? What if it is both more stable and more agile - more responsive to the Holy Spirit- when it exists in these many forms? And what if, instead of arguing about which form is correct and legitimate, we were to honor, appreciate, and validate one another and see ourselves as servants of one grander mission, apostles of one greater message, seekers on one ultimate quest?"